Don't call it hick-hop — not unless you want a squint-eyed glare and a little (playful) attitude from Moonshine Bandits.
Sure, intense rhymes spin through parts of Blacked Out, the latest and greatest album to date from MSB, a.k.a. Bird and Tex, two good ol' boys from California's Central Valley. But there's a lot more than that in their 100-proof grooves. Crunchy guitar, Southern rock swagger — hell, there's even some vocal harmony in the mix.
You see, long before people figured out that country and rap had a lot in common, Bird and Tex were blending these styles and pouring other influences into the mix. The result was a highly flammable combination, so daring that most of those who heard it couldn't figure out how to react.
Get Your Moonshine Bandits Tickets Here!
Others got, well, pissed off — at first. "People were like, 'What the hell is this?'" Bird recalls. "I can remember one show in particular. We were playing in a little bar and getting booed offstage. By the end of our set, though, one of the guys who booing was first in line to get an autograph for his girlfriend."
Remember, this was more than 10 years ago, long before the country/rap bandwagon started rolling. But even now, with other artists embracing this hell-raising hybrid sound, MSB stands out. Their music is as different as ever from everything else being laid down onstage, in studios and in venues across America.
MSB approached Blacked Out with a mission in mind. "We set out to make a blue-collar record for people who work their asses off and, come Friday and Saturday, just want to let loose and party," says Tex. "That was the theme of the album from Day One."
The difference this time around was the duo's commitment to honor true-red, white and blue Americans by challenging themselves to explore new ways of writing and performing. Unlike all their previous releases, Blacked Out includes a number of co-writes with some of Nashville's best — and edgiest — hitmakers.
"It was an eye-opening experience for Tex and me," says Bird. "Some of the guys we wrote with just didn't get our style. But we did wind up doing some really good, powerhouse songs with others. They're part of a progression to where we might probably go with our music."
Ira Dean, formerly of Trick Pony, was one writer who got what MSB are all about. "Ira basically talks in song lyrics," Bird explains. "He wrote 'I Earned It' with us, and when you listen to it, it's not really rapping. It's spoken word, which is a different delivery than anything we've ever done. And it fits the album perfectly."
Get Your Moonshine Bandits Tickets Here!
Though energized by their first-ever collaborations with Nashville writers, Bird and Tex knew that bringing it home meant getting away from Music Row. So they found an isolated recording studio and cabin near Salem, Oregon. Holed up with producers Durwood Black and Ty Weathers, they did nothing for weeks but eat, sleep, live and breathe music.
"That gave us the opportunity to not be influenced by anything else," Bird points out.
"There was so much business stuff going on, aside from music, that we needed to not worry about emails or anything and just lock ourselves up and focus on music for the first time in our career," Tex adds.
They emerged with the most adventurous MSB album ever. It begins with "American Banned," a spirited and defiant "thank you" to the clubs, radio stations, media and executives who'd slammed doors in their faces way back when. ("Seacrest signed us, then he switched up/I'm too outlaw for a network pickup") Greasy slide guitar, a thumping beat and a mixture of lowdown rap and four-part harmony invite listeners to "Come On Down," to "bring some hell — let's raise it." "Deadman's Hands" revels in life on the "open highway" by a "renegade with a road to pave/rest when I'm dead, sleep in my grave."
Elsewhere, Bird and Tex recount a booze-drenched family gathering on "Good Times." ("Every Friday or Saturday, my parents are in the backyard, drinking and barbecuing," Tex says. "Me and Bird will go over there, start drinking and the later it gets, the more problems we can solve.") Powered by a slamming, guitar-driven beat, "Lady Luck" is a sing-along summer anthem, amped up with a guest vocal by Crucifix. On "Pass the Ammo," over a dramatic bed of slide guitar and pulsing bass, MSB takes us into the hearts and minds of the American soldier; few tributes to those who lay down their lives can match this track's cinematic power.
There's much more on Blacked Out. All of it is grounded in the real lives of Bird and Tex. Raised on hard agricultural and construction work in their teens, they met as members of their high school basketball team. Their friendship was forged in all-night keg parties deep in the country; their music grew from what they'd experienced together as restless young men who refuse to apologize for their patriotism, who value family and freedom and above all who feel the calling to celebrate those many Americans who share their beliefs.
As for those who still harbor doubts about MSB's joyful demolition of musical boundaries, Bird says "I'd like to invite them to come out to a live show and see what we're actually about, to be a part of our Shiner Nation fanbase. I believe it could instantaneously change their lives."
But first, give Blacked Out a couple of spins. Even if you never make it out the door to that "party on the river down the old dirt road" ("Top Off the Tank"), with your "rebel flag whipping like a lasso" ("Lasso") and some "half-charred ribs on a rack" ("Out Back"), the music of Moonshine Bandits is enough to take you there.
Get Moonshine Bandits Tickets Here!
Discography
Prohibition
May 2007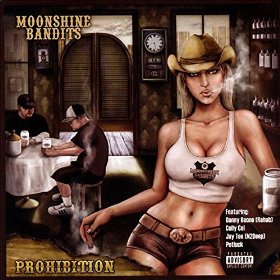 Divebars and Truckstops
February 2010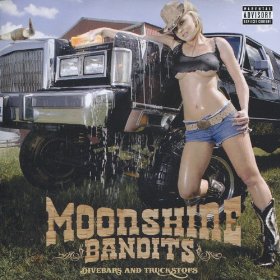 Whiskey Women

May 2010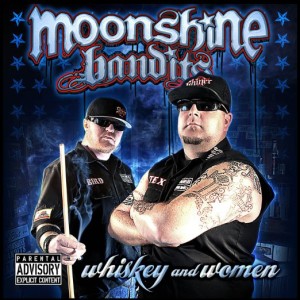 Calicountry
February 2014